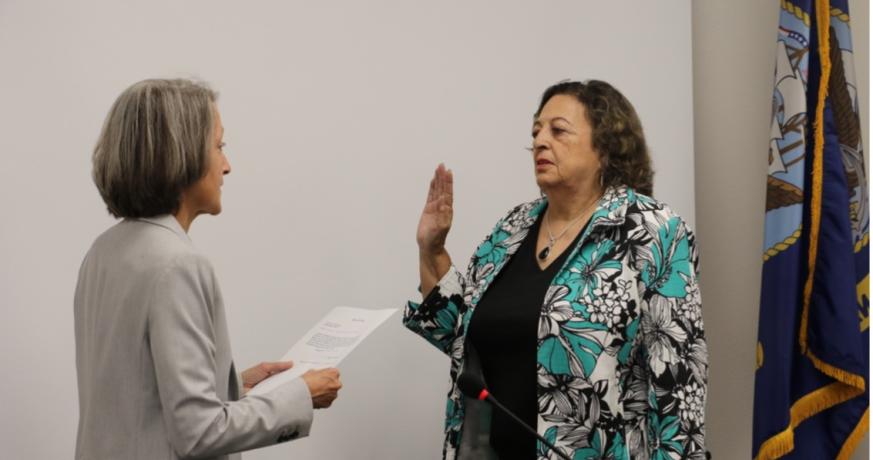 Carmen Hernandez to occupy vacant seat
Barstow, CA- The Barstow Community College District Board of Trustees met on Wednesday, June 15, 2022, at their regularly scheduled meeting to swear in new trustee, Carmen Hernandez.  A longtime resident of Barstow, Hernandez will occupy the Area A seat left vacant in December 2021 after the untimely passing of Trustee Tim Heiden.
Carmen's background is extremely diverse, having been a county employee for Children and Family Services for 34 years. She was the first Hispanic Assistant Librarian in San Bernardino County and taught Spanish to first and second graders. Carmen also spent some time as a bank teller and business owner before serving 7 years as the Planning Commissioner and 8 years as a Council Member for the City of Barstow. She also previously served as Chair of the EOPS Advisory Committee at Barstow Community College.
She served as Chairperson for 2010 Census for the City of Barstow and was a San Bernardino County representative for City of Barstow Emergency Response Team. She served 10 years on the Board of the Community Action Partnership of San Bernardino and on the Board of Directors for Desert Manna Ministries.
Carmen's vision for Barstow Community College is that "Everyone has the opportunity to learn". She feels her greatest accomplishment is not exemplified through the numerous awards she has received but by having a loving family who give her the greatest joy and the privilege of serving the community.