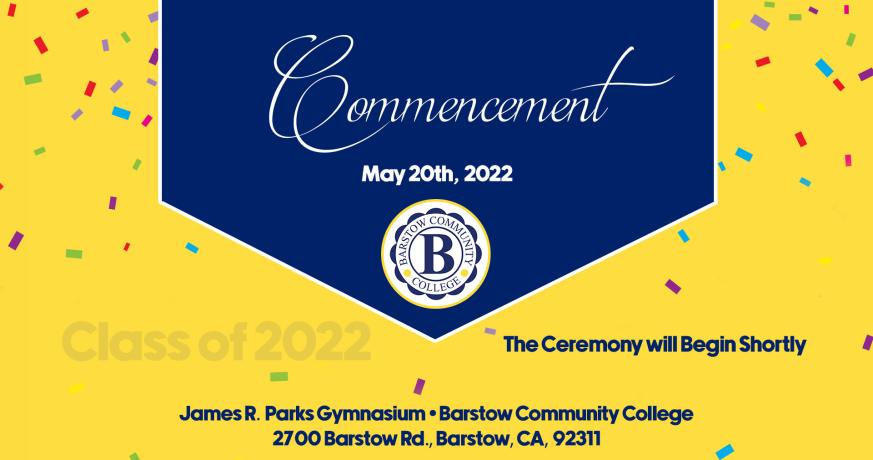 Barstow, CA – Barstow Community College (BCC) proudly reopened the doors to the James R. Parks Gymnasium on Friday, May 20th, to honor and celebrate the 62nd graduating class of 2022. With 542 graduates, receiving 662 degrees and/or certificates, family members, friends, faculty and staff were all on hand to witness the occasion. Board President Paul Wilkey and college Superintendent-President Dr. Eva Bagg, welcomed members of the 2020 and 2021 graduating classes who chose to participate, as they were unable to have in-person ceremonies due to the pandemic.
Kamira Griego, a Magna Cum Laude graduate receiving an Associate of Arts for Transfer degree in Studio Arts, spoke to her classmates about finding the silver lining amongst the storm, referring to the two year pandemic many of the graduates overcame. Having started at BCC just 3 years ago, Kamira started her educational journey as a single, working mom, who was told by family that college wouldn't take her anywhere, even though she succeeded in school. Kamira set new goals, listened to the advice from her BCC counselor, and relied on the support of the "hardworking individuals who's mission never changed", the faculty and staff of BCC, who saw her, and her fellow graduates through the storm.
Commencement Speaker, Hasani X, motivational speaker and owner of LeadYourStory, spoke to the graduates about fulfillment. Having worked with presidents to prisoners, Hasani, inspired graduates to be who they were destined to be. He eloquently and passionately expressed to the graduates that they weren't just climbing a mountain, they were climbing their mountain, for their reasons, to pursue their truths, with their gifts.
Notable GPA figures: 92 graduates received Cum Laude honors (3.25-3.49); 98 graduates received Magna Cum Laude(3.5-3.74); 100 graduates received Summa Cum Laude (3.75-4.0).
Summer registration is happening now for new and returning students, with classes beginning June 6th and June 20th. The college encourages anyone interested in learning a new skill, refreshing their job knowledge, or looking to enhance their life's purpose to contact welcome@barstow.edu to get started at BCC.
For media inquiries contact: Barstow Community College, Director of Public Information, Communication, andMarketing, Amanda Simpson, email: asimpson@barstow.edu, phone: (760) 252-2411 x7348.
(BCC Student Speaker, Kamira Griego)
(2022 Commencement Speaker, Hasani X)