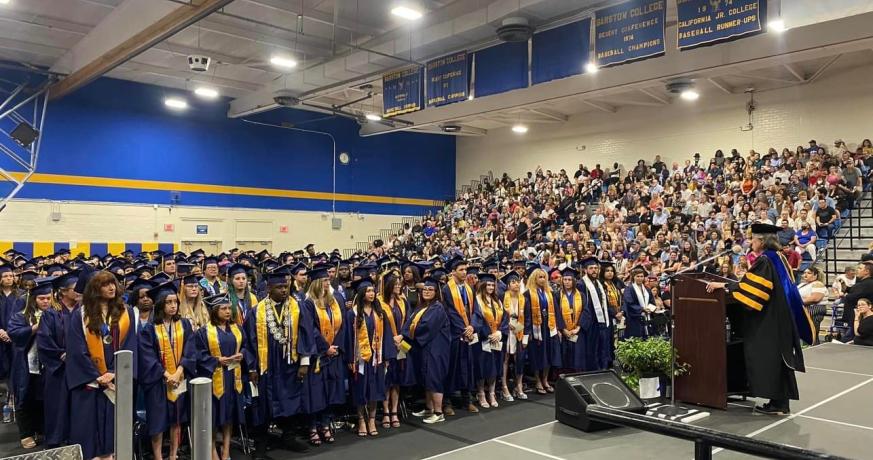 Barstow, CA – Barstow Community College (BCC) proudly opened the doors to the James R. Parks Gymnasium on Friday, May 19th, to honor and celebrate the 63rd graduating class of 2023. With 555 graduates receiving 719 degrees and certificates, family members, friends, faculty, and staff were all on hand to witness the occasion.
Jeorgette Cuellar, a Summa Cum Laude graduate receiving an Associate of Arts Degree for Transfer in English, is the first in her family to receive this certification and shared her favorite quote with her classmates, "I'm going to keep running because a winner won't quit on themselves," author unknown. She also spoke about second chances and overcoming obstacles. Jeorgette will be continuing her education at UCLA in the fall, studying linguistics and English, with plans to utilize her education in the field of education.
Commencement Speaker, and BCC Alumna, Natalia Saca expressed the importance of college friendships, quoting one of her favorite writers, Kahlil Gibran: "Your friend is your need answered, your field which you sow with love, and reaps with thanksgiving." Saca went on to challenge the Class of 2023 to stay connected with the friends they made at BCC, "you might never know when you need them, or they need you".
Of the 555 graduates, 117 received Cum Laude honors (3.25-3.49); 108 received Magna Cum Laude (3.5-3.74); and 116 received Summa Cum Laude (3.75-4.0).
Summer and Fall registration are happening now with classes beginning June 5th and August 7th. The College encourages anyone interested in learning a new skill, refreshing their job knowledge, or looking to enhance their life's purpose to contact welcome@barstow.edu to get started at BCC.
For media inquiries contact: Barstow Community College, Director of Public Information, Communication, and Marketing, Amanda Simpson, email: asimpson@barstow.edu, phone: (760) 252-2411 x7348.