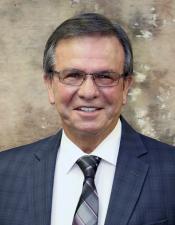 Ted
P
Baca
tbaca@barstow.edu
Dr. Ted Baca has served on the Barstow Community College Board of Trustees since 2005 and has twice served as  Board President. A graduate of Barstow High School, he went on to earn a BA and MS in Biology from New Mexico Highlands University and a PhD in the Health Sciences and Biology from the University of Oregon.
His entire Community College career  was spent at Barstow College where he served in the capacity of Executive Vice President of Academic and Student Services, Vice President of Academic Affairs, Professor, Athletic Director, Division Chair and coach.  During his tenure at the college he was named both Teacher of the year and Administrator of the year and was recipient of the College President's Award.
At New Mexico Highlands University, Dr. Baca has been honored as a Distinguished Alumnus for his outstanding career commitment to Education and to community service and has  been inducted into the University's  Athletic Hall of Fame for his athletic accomplishments. In his  professional career he has  been granted  fellowships for his scholarship by the National Science Foundation, the National Institute of Health and the Ford Foundation.
Dr. Baca is a strong advocate of community service and has voluntarily served with a number of organizations.  He is  committed to empowering people through education and firmly believes it is one of societies highest callings.