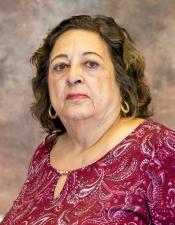 Carmen Hernandez was born in Rio Piedras, Puerto Rico. She has been a resident of Barstow since 1965. Carmen has been happily married for 58 years, and has three children, eight grandchildren and three great grandchildren.
She graduated from Cathedral High School in New York City, received an AA from Barstow College, and a BA in Social Sciences and a Master in Social Work from California State University San Bernardino.
Carmen's background is extremely diverse, having been a county employee for 34 years, retiring as a supervisor for Children and Family Services. She was the first Hispanic Assistant Librarian in San Bernardino County and taught Spanish to first and second graders. She was also a bank teller and business owner. She served as a Planning Commissioner for 7 years in the City of Barstow and Council Member for 8 years. She also served as Chair of the EOPS Advisory Committee at Barstow Community College.
She served as Chairperson for 2010 Census for the City of Barstow and was a San Bernardino County representative for City of Barstow Emergency Response Team. She served 10 years on the Board of the Community Action Partnership of San Bernardino and also served on the Board of Directors for Desert Manna Ministries.
Her interests include traveling the world and experiencing other cultures, gardening and lifelong learning. Carmen has been a community activist for Barstow, volunteering at St. Joseph's Martha's Meals and Kiwanis Barstow Crossroads which serves the children of Barstow.
Carmen's vision for Barstow Community College is that "Everyone has the opportunity to learn". She feels her greatest accomplishment is not exemplified through the numerous awards she has received but by having a loving family who give her the greatest joy and the privilege of serving the community.